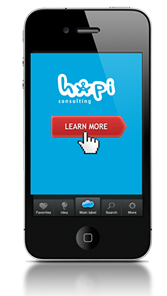 Whaterver makes your happy, we make it easy
Hapi consulting is a Belgium based consulting company with a simple goal :
"Help your business stand out from the crowd among the million of websites that form the Internet!". Our start-up produces simple, innovative and effective digital web-based solutions. Hapi is made of young talented people ambitious, extraordinary, innovative minds. We are passionate about what we do and always ready to roll up our sleeves and make your business rock !

---
Reliable IT Solutions Easy

Is your current IT solution reliable and aligned with your strategic objectives ?
At HaPi Consulting the size of your organization does not matter! You can be only 1 or 1.000, we can provide you an efficient and adequate web based IT solution.
Check out our IT solutions


---

Do you want a web-based solution that perfectly reflects your vision and help you to achieve your online objectives? Do you want to distinguish from other millions of company ?
Working with HaPi Consulting will help you to reveal your added value!
Check out the web value we provide.


---

Is your current goal model perfectly aligned with your business model ?
HaPi Consulting is able to tune your online business model ! By adding some online components you can easily increase online profit!
Check out our Strategic Web Consulting.


---

---
RSS feed
Latest article from HaPi Consulting's Blog
---
They are happy with us !
        
        ? "Pierre is a great partner to work with. He organize the work and manage the collaboration well.
It's a pleasure working with him."             

– J. Setthanang, Senior Affiliate Manager,
TMC ASIA

        
        
            "Pierre's top qualities: Great Results , Expert"             

– S. Csuhay,
In-store Expert at Procter & Gamble Scandinavia         

        
            "Pierre has been a very nice and committed teammate during the Global Management Challenge.
Innovative and pragmatic, he brings a real added value to the team"             

– S. François-Lavet,
Founder & Consultant at Universem         

      
---